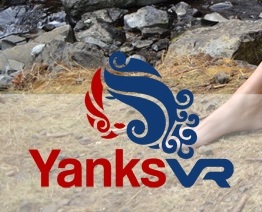 Popular articles by Yanks VR
All articles by Yanks VR
Sierra's Big Orgasm – Sierra Cirque
Masturbation for Sierra is a daily ritual, so she's a real orgasm pro. Her favorite toy at the moment is her Revel Body vibrator. She takes it everywhere and brought it with her to this beautiful outdoor spot! We captured her cumming in 3D while she shows us how why she loves this toy! Watch
Continue reading...
Super Squirter – Ryanne
Ryanne is a *spoiler alert* – squirter, and she thinks she broke her record today! Her magic wand and g-spot stimulator sure get the job done for her. She uses them each and makes herself orgasm intensely hard. She shoots her cum across the room, like 7 feet(no joke)! We hope you enjoy this magnificently
Continue reading...
Clit Pleasure – Raven Snow
Raven has told us in the past how much she loves to play with her clit and she gives us a great demonstration of her favorite technique in this 3D VR video. All she needs is her index finger flicking, rubbing and circling her clit to bring herself to a heavenly orgasm. Enjoy as Raven
Continue reading...
Olive Gets Verronica Off – Olive Glass, Verronica
Olive Glass doesn't only know how to please her own pussy, but she's a lesbian master orgasm giver as well. Olive seduces Verronica with some sensual kisses on her neck and gentle tickles on her thighs until her lips make their way to Verronica's sensitive clit. Olive teases a little and brings Verronica to a
Continue reading...
Sexy Orgasms x 2 – Olive Glass, Verronica
Sexy Olive or Verronica solo is enough to blow your mind, but in this video they come together to cum together. Both girls bring their favorite toy to work it's magic on their sumptuous clits. You'll just have to watch to see who comes first.Download
Continue reading...
Ana Molly & Belle Finger Fuck Fun – Ana Molly, Belle
Ana Molly and Belle really get down to business in this spectacularly sexy video. Ana Molly is the first to cum with Belle's masterful fingers working her clit and deep inside her pussy. Next Ana Molly works Belle to one of her signature earth shaking, body quaking orgasms. There is no faking it for this
Continue reading...
Lesbian Camping & Cumming – Endza, Sierra Cirque
Endza and Sierra are gorgeous while they make out in front of breathtaking waterfall! They are regular lovers and know each other's body well. Sierra takes the lead as she kisses Endza everywhere… and it's clear she knows what exactly Endza likes! Sierra eats Endza's pussy until she's moaning in ecstacy and you'll be in
Continue reading...
Carmen December's Wet Orgasm – Carmen December
Carmen December enjoys being by water, a lot. She told Lily that she'd be happy getting to masturbate anywhere wet. So they went to a pretty creek, and filmed her masturbating with her special dolphin-shaped dildo/vibrator, in 3D! How fitting! Carmen has a loud, vocal orgasm sitting on a rock in the water after teasing
Continue reading...
Verronica's Favorite Vibrator – Verronica
Verronica is such a babe! She is strikingly gorgeous against an already breathtaking waterfall in this 3D clip! She slips out of her dress, and starts touching her equally gorgeous pussy and all over her amazing body. Then we get to see her use her little vibrator and fingers until she moans with pleasure! And
Continue reading...
Turquoise Clit Attack – Turquoise
Turquoise loves to play with her clit and she goes to town with some mad rubbing action. Her tidy snatch gives such a great view into her lovely hole and lips. It looks good enough to eat. She brings herself to the brink before backing off and then working herself into a shuddering and spectacular
Continue reading...
Tasty Teases Her Clit – Tasty Luscious
Here at YanksVR, we're about 50/50 in those who think Tasty had a real orgasm for her first VR shoot. We KNOW she loves to cum and watching this sexy MILF punish her clit is fun in and of itself. While she may have been hamming it up for the camera to start, your trusty
Continue reading...
Marina's Spectacular Orgasm – Marina
Sexy Marina loves her body and seeing her absolute sexiness, we do too! Enjoy as Marina playfully strips and then gets down to business as she first caresses her clit, then goes deep with her fingers. Marina finally ends in orgasmic glory with her trusted Hitachi. Enjoy as she has a very vocal orgasm in
Continue reading...
Marina & Charlotte Watch Each Other Cum – Marina, Charlotte Valentine
Marina and Charlotte love to play with their own pussies and each other's. Each girl watching the other is like a private porno show and you are invited. The sexual tension builds and builds until neither can handle a second more of teasing and sexy orgasms ensue. These two are luscious.Download
Continue reading...
Horny Humper – Hedera Helix
Hedera Helix is a humper. Watching Hedera ride that lucky cushion to bring herself to an intense orgasm is one of the hottest masturbation methods we've seen. Her grinding and nipple tweaking moving towards the big O is simply stunning.Download
Continue reading...
Marina & Charlotte Mutual Orgasm – Marina, Charlotte Valentine
Marina and Charlotte really get off watching each other cum. Enjoy as Marina straddles Charlotte and her perfect tits and each girl works her beautiful pussy to a vocal orgasm. They both love to tease their clits until they just can't stand any more. Marina and Charlotte in 3D virtual reality are truly what heaven
Continue reading...
Endza Loves Her Pussy – Endza
We love Endza's sensuality! Her orgasms are so mesmerizing. She's in this 3D video of her touching her visibly swollen lips before grabbing her cordless hitachi and turning up the pace! Her face, shaking legs and curled toes say it all as she cums with abandon! Enjoy her in this sexy orgasmic paradise!Download
Continue reading...
Calliope Caresses Her Clit – Calliope
Calliope just loves her nipples. Could you tell? She has both nipples pierced and just loves to touch her perfect areolas and divine tits. But she loves that sexy snatch too! Watch as Calliope gently teases her clit and works herself to a shuddering orgasm. We're not sure if the scenery or Calliope is more
Continue reading...
Pussy Focus – Marina
Marina loves to love her pussy and so the focus in this sexy vid is all about Marina's sweet snatch. She's a purist that enjoys all the pleasure her hands alone can bring. Enjoy as Marina has multiple orgasms with her left-hand fingers deep inside her pussy while her right-hand vigorously masters her clit.Download
Continue reading...